Reliable, reputable service is one of the highest-margin sources of recurring revenue for dealerships.
But the ability to capture that potential is only as good as the stability and efficiency of your team. Dealerships can't afford to lose talented service and precision ag technicians due to outdated or obsolete technology infrastructure, especially with quality, qualified hires increasingly hard to find.
According to a DIS survey of Ag dealers across North America, 26% of respondents anticipate tech labor shortages to be one of the biggest challenges they will face in 2022.
Is your dealership cultivating a progressively stable service culture by implementing advanced, effective technology solutions?
To reinforce your technician retention goals, we've assembled 5 automation-enabled management strategies to help preserve and develop talent and experience as a permanent foundation for growing dealership revenue.
1. Clarity Avoids Confusion
Your technicians' time is a valuable commodity, best spent providing solutions in the field or in the shop, not bogged down in administrative inefficiencies. A frustrated tech is an unhappy, unproductive one.
Evaluate the efficiency of your current service department by asking these questions:
How are work orders tracked and shared with technicians?
When are work order updates communicated to customers?
How are customer questions being logged and what is your response time?
How long does it take to collect signatures and payments from customers?
How is your dealership delivering on service agreements?
Overly complex procedures or a lack of clarity can breed confusion within your team, making retention and performance consistency a challenge. Consider implementing some simple steps that can save time for your techs and potential headaches for your customers.
Coordinating schedules and mobilizing your team to be more responsive problem-solvers are two ways automation can reduce service stress and chaos, especially during peak seasons. Service scheduling software allows service managers to prioritize jobs based on need and allocate the required expertise.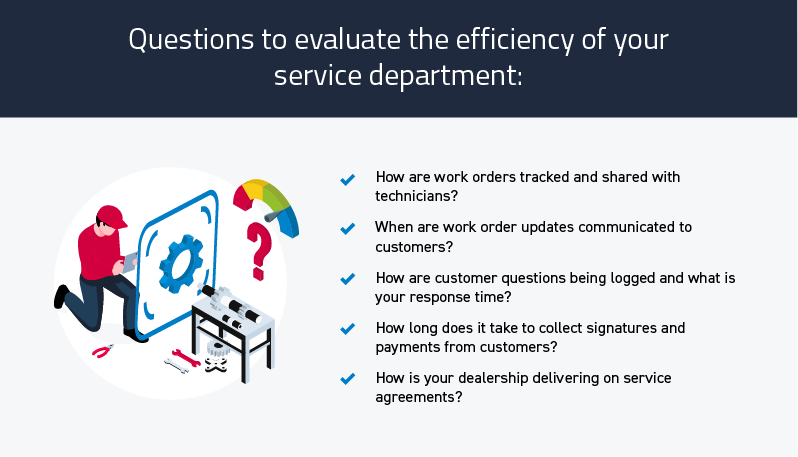 You can also save time with mobile documenting service procedures that simplify work order entry and reduce the risk of error that comes from the pen-and-paper method.
Investing in the service-scheduling applications was a game-changer for Townline Equipment, a 5-location Kubota dealership operating in New York, New Hampshire, and Vermont.
"We were at a volume where we needed a scheduling system that is neither on paper nor on a spreadsheet," says Matthew Marrazzo, President of Townline Equipment. "We required a tool that was not revised every 10 minutes by crossing things out and adding things on, like in a paper-based system."
Implementing a "drag-and-drop service scheduling system" allowed Townline's technicians to easily access current work order information and look at their upcoming schedule adding efficiency and revenue.
"We are completing jobs quicker, and we are saving our service writers and service managers time because we are not double-entering time inspection sheets anymore," Marrazzo says.
Read Next: 5 Best Practices for Documenting Service Procedures at Your Dealership
2. Transparency Equals Efficiency
Consider this scenario: one of your best technicians has spent the last week running ragged in the field during harvest, solving timely combined problems for customers. And accounting for billable service time during the seasonal chaos perhaps wasn't a high priority.
Weigh the advantages of having techs digitally log critical service details on the go in minutes vs. the cost of them spending far more time deciphering handwritten notes or trying to recall vital information days later to complete a customer's billing statement.
Which situation is currently more common at your dealership?
In a highly competitive market for service talent, can you risk losing a quality technician due to inaccurate, inconsistent customer billing that could result in lost revenue for your service techs and the dealership?
As we noted earlier, the pen-and-paper plan is an antiquated one. And this is an especially unreliable approach when it comes to tracking and organizing billed service hours.
For your service and precision ag techs, time is money. Providing an easy, consistent way to log and convert billable hours to income is crucial. A solution that automatically generates timesheets for technicians as they advance a service job keeps an accurate, updated record of job progress and payment information.
Plus, the information is integrated in real-time into your dealership's dealer management system (DMS).
Creating and maintaining a digital record of each service job increases internal transparency, payroll reporting accuracy, and accounting for labor rounding in the service and sales departments. The right automated tool will minimize the risk of compensation inconsistencies or disputes and increase the likelihood of technician retention.
3. Feed Purpose & Productivity
Have you ever calculated the productivity of your service team? You can do so by dividing billed hours by worked hours. You can also calculate efficiency by adding billed hours plus gains/losses and dividing that number by revenue hours.
It's said that you can't manage what you don't measure. When it comes to your service technicians, establishing a baseline for their productivity is key to adopting the right reporting tools that ensure accountability and perpetuate a sense of purpose throughout your team.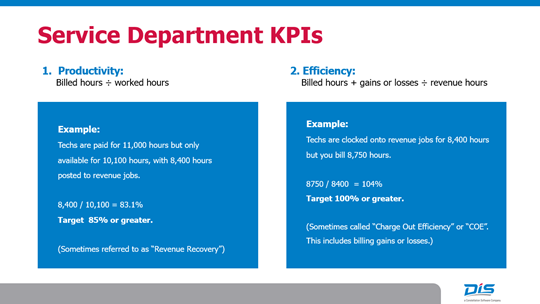 Techs who take pride in their work tend to be much more productive, which can sustain the long-term stability of your service team. Status tracking of in-progress work orders through a digital dashboard of current, future, and completed service orders allows managers to prioritize urgent jobs or reassign responsibilities to techs with the capacity to complete them sooner.
Plus, digital documentation better defines the responsibility and expectations of techs, while also giving managers the ability to evaluate how techs' time is distributed to maximize the revenue potential of billed service hours.
"In Service Logistics, you can look at their schedules and say, 'Okay, you know, I can see we're working on the same job for a week and a half now. We've got to move this equipment out, what's going on.'"
– Ben Holt, Warranty Administrator, A.C. McCartney
For Illinois-based A.C. McCartney (ACM), access to a convenient overview of service performance is critical to managing the productivity of its service team across 5 locations.
"If you have a shop that's lagging or not hitting the numbers, you don't have to go visit that shop and drill down," says Ben Holt, Warranty Administrator at ACM's Wataga location. "In Service Logistics, you can look at their schedules and say, 'Okay, you know, I can see we're working on the same job for a week and a half now. We've got to move this equipment out, what's going on.'"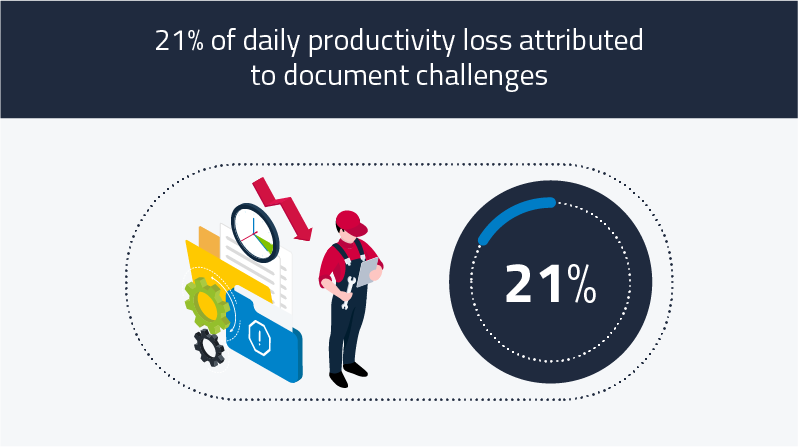 With more than 21% of daily productivity loss attributed to document challenges, proactively shaving a few percentage points off that total can translate to a more productive, purposeful service team and more profitable dealership.
4. Coordinate Communication
Have you ever estimated the amount of time your techs spend on the phone with customers or at the dealership communicating with fellow techs on a weekly basis?
Whatever amount of time it is, chances are it can be condensed and prioritized to create more consistently productive days for your techs.
The avalanche of phone calls that service technicians and precision specialists are buried under during peak seasons can be overwhelming. But the last thing you want is for your techs to be uninformed or isolated from essential information they need to successfully do their job.
So how can you make sure you connect with your service team to communicate critical changes to service orders without consistently derailing their daily progress?
Automated messaging solutions can streamline internal and external communication, allowing your techs to be on top of urgent updates from the dealership or customers. While circumstances can require an immediate phone conversation, lower priority calls can disrupt the productivity flow of your technician's day.
And a mobile service dashboard allows managers to access real-time insights on tech location and job status – without the interruption of a phone call.
While oversight is key to running a productive service department, technicians tend to appreciate the autonomy and ability to capitalize on their time, without worrying about frequent distractions.
Techs can also be more efficient in tracking their progress, using voice-to-text tools to record and relay job updates throughout the day, cutting down on the back-end inefficiency of duplicating the updates since there is already a digital record.
Allowing customers to electronically sign work orders. These conveniences allow your team of technicians to focus more on recouping revenue for their time.
5. Train, Retain & Gain
The limited availability of quality service labor reinforces the importance of retaining and developing the talent of your current team. With burnout and turnover compounding the challenge of service team stability, it's important for your dealership to leverage the convenience that an automated service management system provides.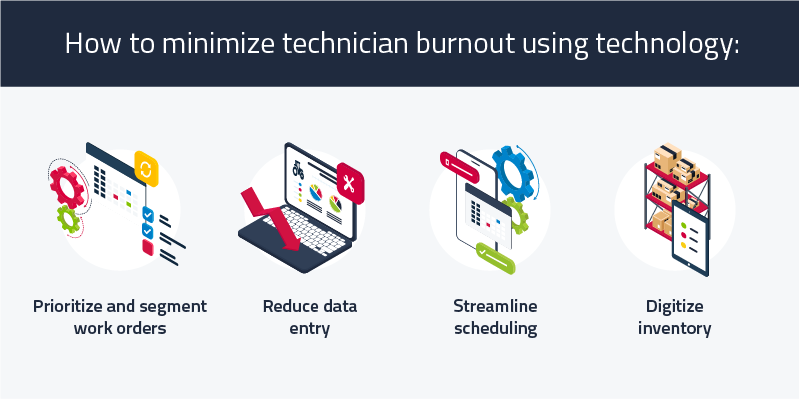 Help reduce tech burnout and minimize the risk of team turnover with these benefits of integrated service management technology:
Prioritize & Segment Work Orders: Create standardized priority level tags for all work orders, so your techs can identify the most important jobs to tackle first. Enable techs to digitally log work orders for easier organization and access to details during the repair process.
Reduce Data Entry: Integrate service tracking tools into your dealership's CRM to avoid techs having to reenter essential, but time-consuming data.
Streamline Scheduling: Ensure you are pairing the right tech and skillset to each service job. This mitigates confusion and frustration while maximizing productivity.
Digitize Inventory: Improve ease of access to parts inventory by allowing your service team to digitally check parts availability and place special parts orders on the go.
About the Author:
Dealer Information Systems Corporation (DIS) is a business management software provider to agricultural, construction, truck refrigeration, and lift truck dealers in North America. For many of us, working with dealers isn't just a job – it's a calling. That's why we have an average employee tenure of 10+ years across our Sales, Support, PSG, and Product teams. Many of our customers have been with us for even longer. We've experienced the transition of generations of families within their business, and they've seen our team grow and change over the years as well.